"It started off when they were little boys
They sang and danced to entertain
Music was their toy
They were to work this music
Fill their lives
From a talent show
They were shoot to grow
A group known as the Jackson 5..." ~3T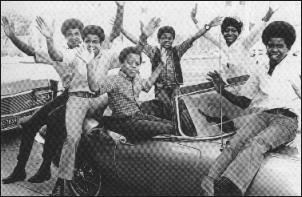 Biography taken and arranged from "the first ever recordings of The Jackson 5"*, by Bill MacIllister.
These tracks* are the earliest known recordings by the Jackson brothers, made while they were still confined to the smalltown scene of their home base at Gary, Indiana, although even they had recognised that Michael, the youngest of the five, had the voice and presence to make them into something much bigger than talent contest winners.
They formed first a trio in 1963, with Jackie (born Sigmund Jackson on 4 May 1951), Tito (born Toriano Jackson on 15 October 1953) and Jermaine (born on 11 December 1954) singing and two cousins backing them, although they were replaced by the two youngest Jackson boys - Marlon (born on 12 March 1957) and Michael (born on 29 August 1958) - the following year.
In 1965 they won a talent contest at a Gary high school, performing their version of the Temptations's My Girl[...]. Their father Joe, determinated to see their boys succeed, had been acting as their manager and drove them to venues in Chicago and New York to widen their appeal. In 1966 they won a talent contest at the renowned Apollo theater in New York's Harlem district and within a year had supported Gladys Knight & The Pips, with Gladys recommended them to Motown boss Berry Gordy Jr.
Their debut single[...] was unsuccessful, but Big Boy, released on Steeltown Records is a pretty good indication of that melodic Jackson sound. After the Jackson 5 were again recommended to Gordy by another Motown act - Bobby Taylor & The Vancouvers - they were signed to the label in 1969 and left Gary for the glitz of Hollywood to be pampered and polished as a coming major act. By January of 1970 their debut Motwon single I want You Back (which had originally been intented for Gladys Knight) had rocketed to number one in the States and sold over a million copies. The follow-up ABC did likewise, achieving the distinction of toppling The Beatles' Let It Be from the Billboard top spot. The list of their other hits is enormous and includes The Love You Save, I'll Be There, Mama's pearl, Never Can Say Goodbye and Jackson Browne's Doctor My Eyes. Listening to the Jackson 5 performing grown-up songs like My Girl, Smokey Robinson's heartbreaking Tracks Of My Tears, the bluesy Stormy Monday or The Drifter's smoochy Under The Boardwalk or teasing Saturday Night At The Movies, there is no mistaking the confidence they had in themselves. By 1971 they even had a Jackson 5 cartoon series being shown on ABC TV in the States. And their live shows became a showcase for Michael's dancing skills as well as his singing prowess.
During those first few years of success Motown had realised that Michael had the greatest fan appeal and the best possibility of a long career and he was groomed by the company for a solo career to run in tandem with the group. From Got To Be There in 1971, his solo debut, until the present day Michael Jackson's career has more than justified that decision.
By 1975 when the Jackson 5's contract with Motown had expired, disagreements about artistic freedom had soured the relationship and they signed to Epic under the name The Jacksons (because Motown owned the rights to the name Jackson 5) and Michael also signed as a solo artist. While the group's career had its ups and downs- Jermaine and Jackie also tried their hand with some success soloists - Michael's career knew only one direction.....up.
In fact, of the nine Jackson children only Jane, the youngest, has managed to come close to the success of Michael. Janet appeared briefly with her brothers during the early 70's, but it was clear she was determined to pursue her own path and after signing to A&M in 1982 has produced brilliant dance hits and beautiful ballads.
Michael's albums Off The Wall, Thriller, Bad, Dangerous and HIStory have changed the face of pop music by not only becoming multi-million selling releases but also accessing a rock audience which had previoulsy seen no connection between black music and their own interests.
So, in a sence these first tentative recordings by the Jackson family are the seeds of a whole new generation of black musicians. Years before they signed to Motown the influence of that label's great acts like Diana Ross, Smockey Robinson, Stevie Wonder, the Temptations, the Four Tops and Gladys Knight show through clearly, but also hide the destiny that awaited Michael when he gained artistic control of his career, found his writing and production skills and harnessed the power of rock music into the scheme of things.
---
J5 site
Main Menu
&copy Copyright 1997-98, NaGuiSha